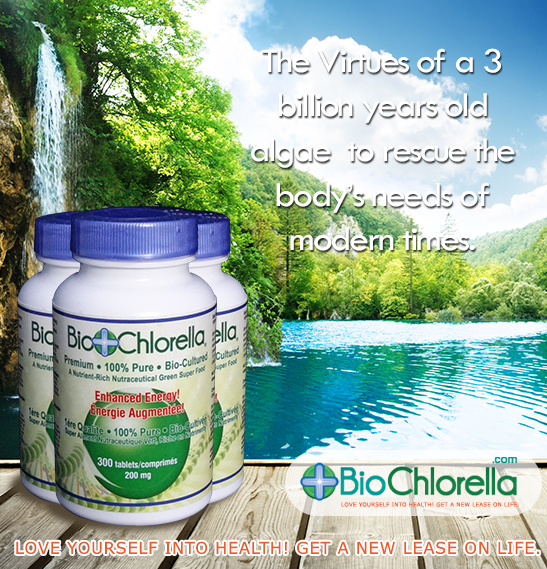 HOW MUCH can YOU GAIN from Chlorella Health Benefits?
Experience the Power of Superfood & High-Vibe Nutrition; Get Even MORE with Bio+ Chlorella®!
Dear Seekers of Health, in your fantastic wisdom of valuing your precious health, body, mind and soul, are you aware yet of ALL the goodness that Chlorella benefits may offer you?
If you don't, then you have been guided to the right site, where you'll find valuable information about how the health benefits of Chlorella, in an excellent 100% pure quality Chlorella supplement or food, can greatly and easily assist you to maintain and boost your health. You will be able to review how taking this powerful superfood could influence the way you feel and look.
The amazing part is that Chlorella benefits address multiple major sections of health, and particularly the main three pillars of health that are largely compromised today: the nourishing, detoxifying and immune stimulation of your body.
Yet, it's not all! Chlorella benefits may also help you with a multitude of reliefs, from easing digestion issues (whether it's constipation, bloating, IBS, etc.), to bad breath, body odor issues, heart burn, acid reflux, arthritis, fibromyalgia, detoxifying, cardiovascular health, and more!
You might think that it is too good to be true? Don't take our words for it, and please check out all the studies and info we offer in this site.
In fact, be ready to be AMAZED by the power of this "wonder" green algae and by ALL it can do for you and your good health!
For example, as you will discover, in today's challenging and over polluted environment, this wholefood nutritional supplement can be an invaluable support to maintain and boost the health of your ENTIRE family, including of your favorite four legged pets.
Maintaining and boosting our health today is not an easy task to manage, and we need all the help we can, especially when it comes in a form easy to integrate into our regimen and super busy lifestyle!
New diseases are "showing up out of nowhere" and challenge modern medical frontiers and limits, leaving many professional perplex and many people desperate for answers, and especially for a cure or "something" helpful…
And it is SO confusing out there that people feel overwhelmed by a sea of naturel products and sometimes conflictual information and don't know what to take anymore. Often, they end up jumping from this hot fad to that new one, and the next miracle cure… Does it sound familiar?
The fact is that many people complain that they don't really see or feel a noticeable difference or improvement from their health supplements. Therefore wouldn't it be nice to find a 100% natural health supplement that makes sense and helps the body to do a BUNCH of positive health actions all at once (that most notice), while addressing major components of health, and with no negative side effects?
Then, please read on and find out the various and exciting ways an excellent quality Chlorella can help you with. Make your health supplementation for overall better health easy-peasy YET with a maximum punch and ROI for your health.
We aim to offer you, seeker of good health & vitality, extensive information about the excellent value Chlorella benefits can add into your health formula.
Therefore, you will gain to discover the "extra-ordinary" healing & nutritional benefits of Pure Chlorella, a Nature's true gift for YOUR health.
Make sure to access the highest quality Chlorella with our 100% pure, high vibration, Bio+ Chlorella® Pyrenoidosa.
Why boost your health tank with ALL the benefits of Chlorella?
We deserve to give our body the best quality foods and fuel possible if we want to sustain good health and energy. It is also a responsibility we must take in order to help create our own level of health.
And because of the new era of health challenges we face , we believe that it is of utmost importance to learn about valuing, respecting and honoring the only vehicle we truly drive in this lifetime: our body, soul and mind, as a whole.
So eating "right" is becoming more crucial to understand and integrate in our lifestyle than before (simply because a lot more foods were much more organic, nutritious and "right" than the ocean of "fake foods" we try to live from today) if we wish to stay out of "dis-eases" and keep up with our level of energy.
However, with the soils depletion and actual alarming levels of pollution, GMOs and chemicals in our foods, "eating right" is increasingly more challenging and pricey to follow ...Sadly, many people even wonder now what to buy and eat when they go to a supermarket.
Therefore the lengthy track record of all Chlorella benefits in all the scientific and medical research history offers us much validity and reassurance to know that Chlorella is an effective solution of support to our good health. It is even one of the best natural, if not The Best, survival food of all times!
And after you find out and read more about Chlorella's numerous health & healing benefits shown to have helped with OVER 50 health conditions, you will probably agree that a good quality Chlorella supplement makes perfect sense in today's health challenges and "busy-ness" of modern life. It looks like from the dawn of time until today, Chlorella continues to bring great value to Earth and human health. So why not check out how it can help yours?
In honor of the person who created this video
Play this video, thoughtfully created by a Bio+ Chlorella®'s fan!
Audio Testimonials
Jewel's Testimonial -
www.salonjcspa.com
CJ's Testimonial
Aaron's Testimonial
Chlorella Benefits and the Lazy way to smart health supplementation!
What is invaluable with Chlorella benefits is that they are "jammed-packed" from a wide health spectrum, and in a single health supplement or food; so it lays the perfect lazy way and foundation to supplement smartly and economically. .
"The Nutritional Benefits of Chlorella" are packed with over 20 vitamins and minerals, 19 amino acids, over 55% protein, chlorophyll, CGF, enzymes & more to fuel your body with premium food and rev-up your level of energy!
Taking pure Chlorella regularly, beyond great nutrition, is an easy-breezy way to DETOX a lot of nasty's from your body (such as heavy metals, pesticides, insecticides, radiation, chemicals) while benefiting from Weight Control & Anti-Aging actions and effects!
Taking a good quality pure Chlorella regularly can, as well, help you to BOOST the DEFENSES of the body by assisting to balance itself and by strengthening the immune system ; you might soon take notice that easily catching a flu or a cold appears to be a "thing of the past", and that infections and allergies have lessen over time.
But that's not all... Taking pure Chlorella regularly can help to give your heart a break ; to boost major organ functions, such as digestion & much more...
What about the BRAIN? Do you wish to STAY YOUNG & SMART IN THOUGHT? The nutrients and benefits of Chlorella may also help & protect your brain health & cells against stress, memory loss & depression.
It may also help children and adults alike to lessen ADD, ADHD or difficulty to focus and concentrate, and to calm & relax the nervous system.
There are other positive actions that Chlorella benefits catalyze in the body, and this ensemble of immense qualities contribute to give Chlorella its profile and reputation of "perfect food". Therefore, when it comes to our health, it make sense for us to choose Chlorella as one of the shortest cuts to smart foods and optimum supplements, because these choices will set (or not) a better and easier future health path, and the way we enjoy life and its later years...
However, not all foods reputed to be "great for us" are necessarily so, particularly nowadays. So, how do we know which ones are good for us or not? Let your own body tell you as it will never lie to you…
One way our body gives us responses "in advance" from the vibration of anything is through applied kinesiology or muscle testing.
NOT ALL QUALITIES OF CHLORELLA & CHLORELLA BENEFITS ARE EQUAL.
The performance of Chlorella depends not only on its Purity, Quality but also on its Vitality or Life Force! What vibration does it have? It is increasing your energy field?
Bio+ Chlorella® is a superior quality and high vibration, 100% pure chlorella Pyrenoidosa, with NOTHING ADDED to it. Its powerful vibration has shown so far that for about 98% of the hundreds people we have tested through muscle testing, Bio+ Chlorella®'s high vibration had ncreased their energy field, through the phenomena of resonance (and dramatically more so in comparison with most other "green supplements") .
What does that mean for you? That the likelihood for Bio+ Chlorella® to exert a positive health and energy increase on your body is extremely high, as well as the one to make an intelligent choice to maximize the return of your health investment.

You may want to check our our valued and happy customers' reviews.
Make your health matters. Don't wait to gain some health advantage, experience the power of high vibe nutrition you get with Bio+ Chlorella®!
Our almighty 100% Pure Chlorella beautiful green tablets (with NO binders, magnesium stearate or other additives), or pure Chlorella powder are potent health companion for you and your whole family!
Benefit from the broad health benefits spectrum of your favorite green superfood Bio+ Chlorella®, love yourself into health and maximize your freedom of living!
"Bio+Chlorella. This is my favourite! Skin glows, eye lid drooping gets suppressed, skin on the face becomes smooth for some reason, strength, and lots of energy especially when taking 8 grams twice a day! However, this quantity also makes the chlorella not to be used as a plain antioxidant/nutrient, but mercury mobiliser and depending on someone's toxicity and immune system they may have side effects such as joint and muscle pains, that seem to move from one body part to another. I personally use now 4 gr per day empty stomach in the morning and wait for an hour before I eat for antioxidant protection, nutrition, plus coating the gut to trap any metals on their way out."

- Nektarios Papadopoulos, U.K.
"I need to give thanks to the person who introduced me to BioMega3+ and Bio+ Chlorella. I have been using these wonderful healthy bio-products for approximately one year now and I have been revitalised, energised and have overall much better health. There is no more bloated stomach and I have lost over 15 pounds without dieting! I have absolutely no hesitation in recommending these wholesome chemical-free products. Thank you, Thank you."

- Dale Reid, Toronto.
"Two years ago a Doctor finally gave a name to all my pains, aches and chronic fatigue it was FIBROMYALGIA. What a relief to finally know that I was not going insane. I was also suffering from high blood pressure 145/95 and higher for more than five (5) years. He started me on a treatment that even though it helped with the pain it also made me sleepy all day long. I still could not get my house work done, enjoy my every day activities or do my own grocery because driving my car was becoming impossible. One morning while I was having breakfast with a very good friend, she suggested that I try a natural health food called BIO + CHLORELLA. I followed her advice and started taking BIO+CHLORELLA and after only a few weeks most of the pain was gone and more importantly my energy level was way up. I have been taking the product for 6 months now and I am feeling better every day. My blood pressure is back to normal 118/79. I feel I have been given a new lease on life. I am able to do my house work, I have started bowling again and doing all my own shopping! I hope that this testimonial will help many other people with Fibromyalgia and High blood pressure to feel better and enjoy a fuller more active pain free life."

- Angele Bisson (60 years young)
Two Mountains, Qc.